KingStar is trusted by Kickstarter and startups. We undertake dozens of new OEM water bottle/tumbler/cup/food container/dog bowl products every year. Some of them are crowdfunding projects.
KingStar tries to help those entrepreneurs or purchasers who are preparing to launch new design/new development water cup or food container projects to shorten the project time and reduce costs through the following article.
I. What Is Product Development?
Product development refers to the entire procedure of launching a product to its related market to obtain deal holds. This complete process of product development also includes upgrading an existing product and taking an existing and old product to a brand-new market. Product development covers a wide range of knowledge and requires concerted efforts to achieve the final interest. The owner or the creator of the product should identify the market needs, conceptualize the product, plan the marketing strategies and also gather the feedback of their products.
II. Water Bottle/Tumbler/Cup Development Process in 6 Steps
The entire process of water bottle/tumbler/cup development can be roughly divided into 6 steps. Following these steps below is conducive to making your dream come true. Just scroll down and read them by heart!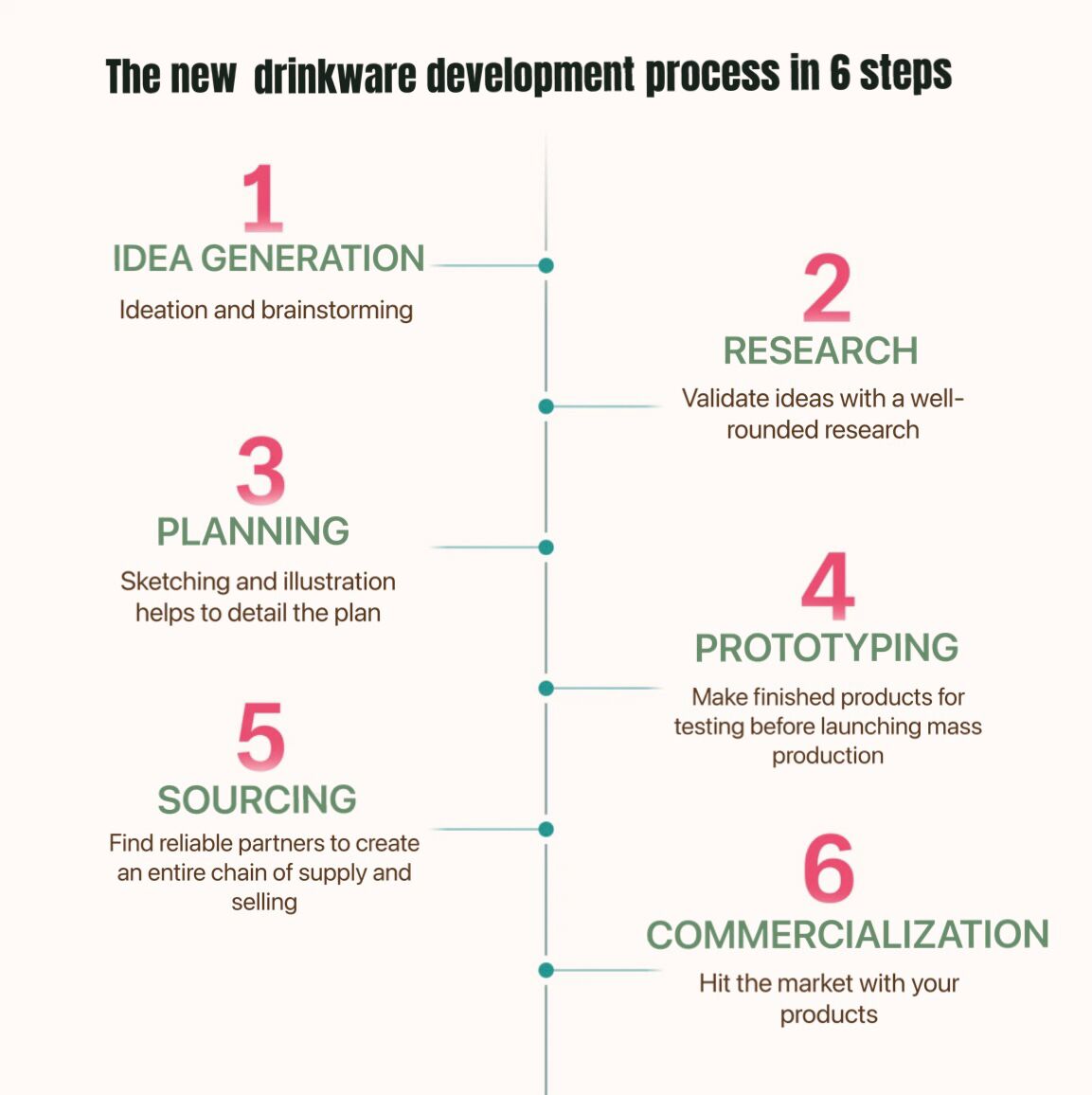 2.1 Idea Generation
Generating an idea is the first challenge faced by many aspiring water bottle business starters. Some of them may find it difficult to create an idea and wait for others' brainstorming. Well, creating something fundamentally original and new is quite challenging as there are already popular bottles on the market.
When it comes to idea generation, the SCAMPER model can shine bright. This model helps you to come up with new ideas swiftly by raising questions about existing products one by one. The each capitalized letter stands for a lettering: Substitute, Combine, Adapt, Modify, Put to another use, Eliminate, and Reverse/Rearrange.
Here KingStar lists 7 examples to explain the above seven prompts so as to facilitate your understanding:
Substitute: Stainless steel water bottles can replace plastic ones.
Combine: Stainless steel water bottle can be equipped with smart chips to deliver better monitoring of daily hydration.
Adapt: A stainless steel water bottle with several replaceable lids of varied types.
Modify: A tumbler with a sleeker design.
Put to another use: Stainless steel bottles designed for pets.
Eliminate: Cooperate with a bottle manufacturer instead of a trader.
Reverse/Rearrange: A protective silicone boot that minimizes the appearance of dents.
Taking the above seven prompts into consideration offers you great assistance to transform existing ideas into new ones and even come up with your own original concepts.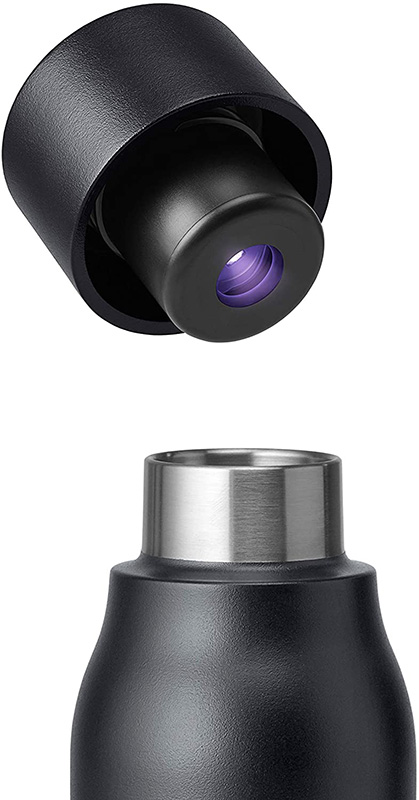 water bottle with UV sanitizer
2.2 Research
Some young and inexperienced entrepreneur may immediately bring the new-born idea into real production, which is understandable yet incorrect. However, before investing your money into manufacturing, you must carry out a deep and well-rounded research to validate your idea firstly.
The validation process helps you to make sure that your products are profitable and your business promising. Without launching an all-sided research, you may squander your precious time and labor on valueless things. Here KingStar shares with you several practical approaches to do the validation for your drinkware products:
Share your idea with your family & friends to see what they think of it.
Make a survey is a must and you should do it ASAP.
Try to start a crowdfunding project to see whether it works.
Send samples and ask for feedback.
Use Google Trends to research the potential market demands.
Build up a website in which you should launch a Coming Soon page to judge interest by welcoming orders in advance.
An indispensable part of performing research is to obtain feedback from the mass audience to see whether they would like to pick up your bottles/tumbler/cups. Be wary of flattering feedback that may be given back by your counterparts on the market. For example, "I will definitely buy it! This one is the best I have ever dreamed!" An rational feedback should present both shortcomings as well as advantages of your products.
Sometimes your rivals can offer great information to you, too. A competitive analysis is designed to help you see clearly the market share and the corresponding positions of water bottle brands on the market. It is advised to browse your competitors' websites to see how they attract customers and the way they promote products. Once you have mastered these information, you can adsorb the essence of them and create your own. Again, do not blindly copy others', add something to it or refine it.
Now you have gathered and complied the above information, it's time for you to do the planning.
2.3 Planning
 Yes, we haven't come to the manufacturing step as the planning should be scheduled beforehand.
Imagine approaching to your manufacturers yet don't know how to describe your products. Terrible, isn't it? You must have a concrete and touchable idea so that your water bottle/tumbler/cup supplier can perform the manufacturing job for you. Without planning, you will feel as if your tongue is twisted.
Make a sketch. A hand-drawn sketch can vividly present the rough picture of your products, facilitating understanding and easing the work. In fact, don't feel sorry about your sketch because a professional manufacturer will detail it as long as he (or she) takes the job. If you decide to hire some sketch designers, go and find them on UpWork and Dribbble.
A better way is to contact KingStar. Our engineers can make 3D drawings for you for free. As the leading custom water bottle manufacturer, we provide one-stop service from product concept to mass production.
In addition, make a list of materials or components you will need for your bottles. The list does not have to be an inclusive one, but it should contain basic elements for a bottle.
Example of vacuum insulated stainless steel water bottles:
Body (sizes and materials)
Lid (flip, straw, spout, magnetic slider, etc)
Lid (plastic or stainless steel)
Silicone ring
Finish/coating
Stainless steel (1 wall or two walls)
Silicone boot for protection
Straws
Other accessories
Packing (boxes, manuals, inserts and sizes)
Apart from components, you are advised to take into account the retail prices and category of your products. Does your bottle fall into the Sports? Is the tumbler made for outdoor use or daily shuttling? Do you use the eco-friendly and sustainable material? In the planning process, these are all the related questions you need to thick them twice so as to position your products.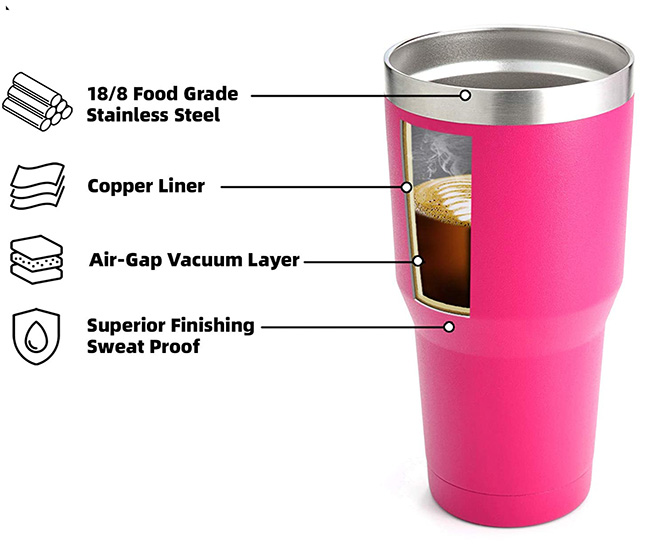 2.4 Prototyping
The ultimate goal of prototyping is to make a finished products for testing before launching tooling development and mass production. This process aims to eliminate some versions of the samples and improve the products until the it meet your requirement.
In general, you are supposed to send the sketch to water bottle/tumbler/cup manufacturers who will do the prototype for you. It would be better if you have a ready-made 3D drawing. Stp or step format file will be great.
KingStar helps kickstarters build prototype with 3D printing technology.
Once you approve the protype, it is time to source a professional water bottle manufacturer to develop the tooling and mass production.
2.5 Sourcing
Now you have made a prototype, it's time to find reliable partners responsible for the fabricate the mold / tooling and mass production. In fact, sourcing is about creating an entire chain of supply and selling. For instance, designated water bottle manufacturers are in charge of producing bottles/tumblers/cups and shipping them to you while vendors help you to further expand sales channels.
Above all, the major task of sourcing is to find trustworthy manufacturers for supply, and factors such as shipping and storage should also be considered.
In general, you ought to find multiple manufacturers for different parts of products. But when it comes to water bottle/tumbler/cup, the manufacturing and assembling of products can be achieved in just one factory. That doesn't mean that you do not have to find more suppliers as you should compare cost and manufacturing equipment & experience of each supplier.
There are many ways to establish cooperation with business partners. For example, you can attend trade shows where a variety of products and their owners will be present. But it should be noted that since 95% of the world's stainless steel water bottles/tumblers/mugs/cups is made in China, it would be better for you to attend Chinese trade fairs like Canton Fair in Guangzhou, Guangdong Province, and the China International Import Expo in Shanghai.
Searching through the Internet is also a good way to discover water cup suppliers. Platforms such as Google / Bing / YouTube can give you good choices. Searching for "water bottle manufacturer", "stainless steel water bottle manufacturer", "custom tumbler manufacturer" and so on on search engines will help you find many reliable drinkware suppliers.
Luckily, you may save a lot of efforts as KingStar is the best stainless steel water bottle manufacturer and water bottle supplier in China. Our total factories take up an area of 30,000 square meters with over 500 employees working relentless to present quality water bottles/tumblers/mugs/kettles/can coolers/growlers/pots. KingStar has a complete manufacturing line with the most advanced equipment in the world. Besides, we have a professional Research and Development team as a sold backing. We are 100% capable of designing and manufacturing drinkware products of superior quality. Our products can meet quality standards including that of Food and Drug Administration (FDA), Lebensmittel- und Futtermittelgesetzbuches (LFGB), Restriction of Hazardous Substances (RoHS) and Proposition 65 (Prop65).
We stand ready to offer you OEM and ODM solutions. KingStar has established strategic cooperation with famous water bottle brands in the United States and has won their trust and loyalty with our premium bottles.
KingStar gives priority to our partners' privacy and all transactions are taken safely without a hint of disclosure. Also, KingStar provides you with custom molding, manufacturing, decorating, logos, packaging. Personalized water bottles are suitable for special occasions such as holidays and company events. The quality of our customized options is also 100% guaranteed.
2.6 Commercialization
Here we come to the final process, namely, commercialization. In this process your major task is to introduce your water bottles/tumblers/cups/ to the market. Often, a professional development team will take over the marketing for your products. Such a team may help you design and post advertisements or write blogs for promotion.
If you have a tight budget, you can choose other cheaper ways to commercialize your products. The following tactics are KingStar's recommendations:
Contact with your subscribers and email them the product launch information.
Seek for cooperation with influencers to implement affiliate marketing campaign.
Label your products as holiday gifts.
Use social medias such as Instagram and Tiktok for promotion.
Launch a crowdfunding activity to pay for the commercialization fees.
Go and find a farsighted patron.
III. The Best Custom Water Bottle Manufacturer: KingStar
As the best custom water bottle manufacturer in China, KingStar offers you custom water bottle manufacturing services including custom molding, custom manufacturing, custom decorating, custom logos and custom packaging to meet your requirements. Here we briefly introduce every option in order.
Normally, our customers pick up KingStar's drinkware products that are in stock. Such a deal can be made in a very short period of time as we can directly ship the required products to a designated port. Well, if you have your own idea about the product or you are seeking for a new design, you are advised to choose the custom molding service.
Custom molding service costs you a lot as we have to create an entire new line exclusive for you. But the advantages of devising a new type of bottle/tumbler/cup are considerably obvious. Products with a new design helps to attract people's attention, distinguishing themselves from ordinary ones on the market. A well-targeted and original product can make your water bottle business lucrative. Just remember, ingenuity pays off in the end.
In KingStar, custom molding for entirely new shaped items (bottles, tumblers, cups, mugs, food jars, vacuum flasks, etc) include custom design bottle mold, custom design cap/tumbler lid tooling and electronic module of smart water bottles. Besides, custom molding adopted in our existing products is also supported. At present, we support embossing on the surface of stainless steel bottles and embossing/engraving on silicone bottle rings or sleeves.
Custom Manufacturing
Custom manufacturing service is offered here. KingStar is home to a complete set of drinkware product manufacturing equipment that are complicatedly advanced. These tools together with our experienced operators firmly back the high quality of our products and the fast producing speed, enabling us to meet the lead time effortlessly.
The manufacturing process in KingStar includes shape forming, cutting, welding, polishing, copper plating, powder coating, transfer printing, laser etching, inspection and assembling & packing. If you have a designated manufacturing method to make your products, just email us and we will accordingly recommend you related manufacturing plans & prices.
Custom Decorating
Custom decorating is the most popular and one of the cheapest approaches to make you products unique and elegant. Different decorating methods are capable of yielding entirely varied visual effects. It is advised to adopt fancy and fashionable appearance to attract the youth and fashion lover and classical as well as elegant exterior for office men and ladies. See KingStar's coating & printing option chart below:
| | |
| --- | --- |
| Coating Options | Printing Options |
| Spray Painting | Silk Screen Printing |
| Rubber Coating | Sublimation Transfer |
| Glitter Painting | Water Transfer |
| Ceramic Coating | Heat Transfer |
| Powder Coating | Air Transfer |
| Electroplating | 3D Printing |
| Polish | Digital Printing |
| | Water Decal |
The above decorating approaches vary from each other either in terms of the cost or the complexity. If you know them well, you can ask for some certain ones for processing, if not, you can tell us what are the ideal effects you wanna achieve and we will tell you which coating/printing option suits you best.
Custom Logos
More often than not, our clients will ask for printing their logos on products. Yes, it is a convenient and inexpensive way to promote their products/brands by presenting the identity. What's more, if your products, say, stainless steel cola-shaped water bottles, are not embedded with your unique marks, your customers may be reluctant to buy them as they look similar to those of other brands. In other words, your goods will lose the product competitiveness to some extend.
It is advised to print brand logos, company marks, mottoes and other lettering onto the bottle so that your products can get to the market and be accepted by the public easier. The following is the custom logo option chart for your reference.
| | | |
| --- | --- | --- |
| Logo Printing Options | Engraving and Embossing | Labeling |
| Silk Screen Printing | Laser Etching/Engraving | Metal Emblem |
| Heat Transfer | Embossing by Punching | Tag |
| 3D Printing | Embossing by Stamping | |
| Digital Printing | Debossing by Punching | |
| | Debossing by Stamping | |
Custom Packaging
A proper and appealing packaging also plays a crucial role in promoting your products. KingStar is also rich in packaging materials & plans, and provides you with a compete set for you to choose from. At the moment, packaging plans include bubble bags, display boxes, gift boxes, hang tags and UPC sticker labels are available. And all these materials and solutions can be personalized based on your requirements. So if you are not interested in the ready-made packaging solutions, you can either send us your design files or communicate with our graphic designers who will take the job for you.
IV. Conclusion
Congratulations! You have finished reading this long article. It is believed that you must have learned a lot about how to make your custom design drinkware get to the market easier with the above elaboration. As the old saying goes, "actions speak louder than words". If you have made up your mind to make a difference, why not cooperate with us at once?