Are you searching for a reliable and trustworthy water bottle manufacturer? Well, you may have trouble finding one due to a variety of reasons. Some may not be qualified and others may fail to meet your requirements.
Working with a reliable metal cup manufacturer helps to complement and improve your business structure. You are backed by a trustworthy supplier who will regularly provide you with premium drinking gears with competitive prices in bulk.
We have compiled the information about time-honored water bottle cup manufacturers after a deep research into the water bottle market and their clients. We hope this blog will assist you to find your long-term business partner.
1. Analyze Your Business
Before setting out to browse the information about water bottle suppliers, you are supposed to launch several research to better understand the water bottle market. After that, you will have a clear idea about your requirements for a capable and trustworthy water bottle supplier.
In addition, the type of your business and the scale of your operation exert considerable influence on the choice of your water bottle cup manufacturer, which lies in the heart of basic information you are supposed to master before jumping to the manufacturer list.
2. What Kind of Business Do You Do?
The answer is quite obvious. However, what you need to take into consideration is the distribution channel that is used in your water bottle business. In order to facilitate your understanding towards the distribution system, we now introduce to you the common distribution channel type and its applied water bottle manufacturers.
3. Types of Distribution Channels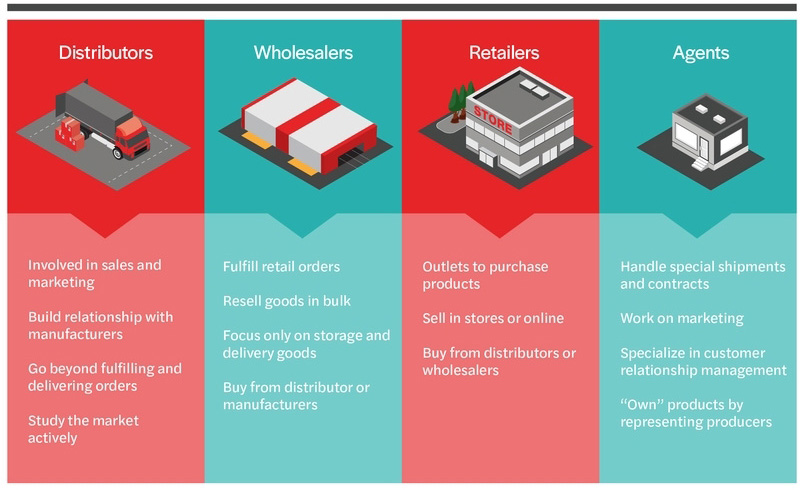 3.1 Distributorship
When you are operating your water bottle business, you are also acting as a distributor who is in charge of sourcing for agreeable retailers who are capable of marketing and suiting your water bottle brand, orders from retailers/customers, marketing, after-sale services, dealing with complaints and returns.
Here we offer you basic requirements for water bottle manufacturers. You have to find one that is:
Suitable for a strategic and long-term business relationship
Enthusiastic to train your team mastering the characteristics, usage, benefits, production process, QC(quality control) of the drinking gears they sell.
Willing to assist you with understanding the marketing strategies of the water bottles they manufacture.
Willing to make joint efforts to sell products. Your manufacturer's sales team and yours work shoulder by shoulder to better utilize the market. This action is really helpful as you will gradually know how the brands and your products are accepted by the market and customers.
Proficient in and ready to handle quality issues of the water bottles.
Featuring a swift and lasting procedure in dealing with returns from your end.
Capable of manufacturing the volume of water bottles you order to fulfill your customers' need.
Able to increase the production scale to fulfill clients' orders in peak seasons.
Ready to offset manufacturing requirements during special occasions when expected long interruptions occur (e.g., Christmas, Halloween, etc.)
Assuming work ethic including embodying mission and vision of your company.
Besides, some water bottle producers may refuse your distributorship out of exclusivity. In other words, the only drinking gears you can distribute are those that come from your manufacturer, and you can't distribute products offered by other suppliers.
Therefore, remember to ask your manufacturer about this crucial issue before selling products and contemplate whether your team can accept such a "loss".
3.2 Wholesaler
Some business beginners may mistake wholesalers as distributors interchangeably and believe they share the same duty. In fact, wholesalers and distributors feature different operating rules and functions, and the only sharing trait of them is that both of them order products from manufacturers.
So who are wholesalers? Wholesalers are generally unconstrained merchants that care little about exclusivity agreements. In reality, such a merchant even gets rid of issues coming from return policies and marketing strategies.
If you are a wholesale, then the only goal of your team is to sell water bottles offered by your designated water bottle manufacturer to customers or retailers. If so, you need to collaborate with water cup manufacturers that:
Are able to provide you with a spectrum of drinking containers. It is highly suggested that you should meet every customers' requirements by offering them a variety of products such as water bottles, coffee mugs, can coolers, tumblers, food jars and so on. Diversity enables you to embrace a successful business.
Are willing to offer you the same discounted price even when your business takes steps backwards (such as deceased order quantity).
Hold a reputation in the water bottle market or have worked with famous water bottle brands.
Are able to give you suggestions about pricing, considering factors like overheads and logistics.
You are advised to find a water bottle manufacturer that offers quality products with satisfactory prices in bulk. Because retailers are prone to receive products featuring the above two advantages.
3.3 Retailer
Often, manufacturers rarely establish long-term cooperation with retailers due to the low order volumes. But, some (including KingStar) are willing to sell products in low quantities to retailers. KingStar values every clients and are dedicated to offering assistance. If you are a retailer, you are advised to work with water bottle suppliers that:
Accept low order quantities. You should speed up to dispose water bottles so as to order products more frequently.
Are able to facilitate the logistics. Some water bottle manufacturers overseas put all the goods from various orders in one freighter to lower logistics costs. And it would be advisable for you to take advantage of it.
Are capable of meeting timely deliveries. This requires the water bottle manufacturer to have adequate stock or boast an incredible production capability.
Value the partnership and are willing to share with you feedback from their clients.
4. How Do You Do Your Business?
The nature or the type of your business and the way you operate it should also be in line with your water bottle manufacturers who are expected to offer you one-stop services. As a result, the only two things you need to pay close heed to is receive the goods and sell them out.
5. Types of Business Models
5.1 E-commerce Platforms
Currently, many entrepreneurs choose to do their business online, such as Amazon and Walmart, especially during the Pandemic. These people rely on e-commerce platforms to promote ans sell their products. So if you also work online, we suggests you gather more information and post more contents about the limitations and specifications of water bottles, because customers and clients will browse water-bottle-related information for further action.
Clients and consumers may ask question about drinking metal containers, which requires you to reply them in time and with quality contents to convince them into buying. Remember, vague answers may cause potential losses.
Some business starters may know little about water bottle products yet are still eager to earn some big money from them . For such a group of people, it is a must for them to find an experienced water bottle manufacturer like KingStar who will offer them information known only to the insiders. They can also learn some marketing skills from their product suppliers. These information will greatly boost the promoting and selling of your water bottles/tumblers/cups.
5.2 Physical Store
If you are running a physical store, you should collaborate with a water bottle/cup/mug manufacturer who can offer quality products in bulk and deliver them on time.
As is often the case, physical stores are confronted with the risk of inadequate inventory, which may lead to potential losses especially during holidays when water bottles are enthusiastically pursued by customers.
This is what you should bear in mind: most customers care little about the label on water bottles or the name of its producer, instead, they seem to remember the location where they bought them. And this enlightens entrepreneurs to search for a water bottle manufacturer that can make quality products. These bottles do not have to be the best, but should be durable and elegant.
5.3 Dropshipping
The dropshipping business model is also welcomed in recent years. This is an emerging distribution medium where business dealers are free from warehouses for storing products. In this business model, the manufacturer do not release the goods until the transaction is made by the wholesaler or the retailer. Here we brief this business model by virtue of a vivid example:
When consumers buy the water bottle from the vendor, the manufacturer will receive information about the details (product description, volume, delivering date and so on ) of the transaction. The manufacturer will then prepare the goods according to the sales instructions and deliver them to consumers. So you can see clearly that the vendor is not exposed to the goods.
If you prefer to use the dropshipping distribution model, find water cup manufacturers who have clients around your location or in your local market so as to facilitate the work. Remember, dropshipping is only applicable for manufacturers.
5.4 Warehouses/Distribution Centers
You may need to work with a water cup manufacturer who has flexible standards on demands if you are operating warehouses or distribution centers. Such a manufacturer will kindly lower the minimum order quantities during the slack seasons.
Therefore, in order to obtain more margins, you should give priority to water bottle manufacturers who are willing to adjust the scale of production according to your situations, can deal with returns, and provide customers with after-sales services.
Congratulations! You have got a better understanding of the features of the manufacturer suitable for your business. The next thing we gonna do is to know your products in the market, namely, hydration gears.
5.5 Laser Engraving / Etching Business Company Owner
Maybe you are a new small startup company with laser engraving machine, you provide custom logo water bottles or private label tumblers. This is a very prosperous business model. Buy blank stainless steel water bottles, wholesale blank tumblers from blank water bottle tumbler manufacturer, then print logo/text/monogram according to your customer's request, get very good profit.
7. Types of Water Bottle Cup Supplier Manufactures
There are 2 types of: Water Bottle Cup Supplier Manufactures: OEM water bottle manufacturers and ODM water bottle manufacturer.

8. Understand Your Market
Understanding the market is conducive to better applying your promoting strategies, rationally allocating your resources, and avoiding anticipated risks. What's more, diving into the market paves the way for your future investment.
9. Who Will Purchase the Reusable Metal Water Bottles?
Every one needs to get hydrated, which means literally every one needs water bottles for hydration. Some people may get accustomed to drinking water with disposable water bottles, which is not eco-friendly, while some stick to the idea that reusable metal water bottles (stainless steel ones) are the only right option. And people who choose to purchase reusable metal water bottles include:
Adults covering nearly all walks of life (e.g., office workers, drivers, travellers).
Company buyers (especially when reusable metal water bottles are used as promotional gifts)
The young generation (the trend of Yeti in campuses)
The elderly
People who highly care about their healthy hydration life
People who highly care about their living conditions
People who highly care about the environment (plastics leads to pollution)
10. Why Will They Buy the Insulated Stainless Steel Water Bottles?
The next question you have to think about is why your customers choose to purchase stainless steel water bottles. Again, it is closely related to the group of people who choose to buy them. And according to a research conducted by Yale University, the reason why customers pick up reusable metal water bottles for hydration include:
Making contributions to protecting the environment
Living a healthy hydration life
Valuing the capability of stainless steel water bottles (keeping contents cold and hot)
Valuing the versatility of metal water bottles
Serving as promotional gifts
Gifting in special occasions such as big events and holidays
Delivering to employees as company gifts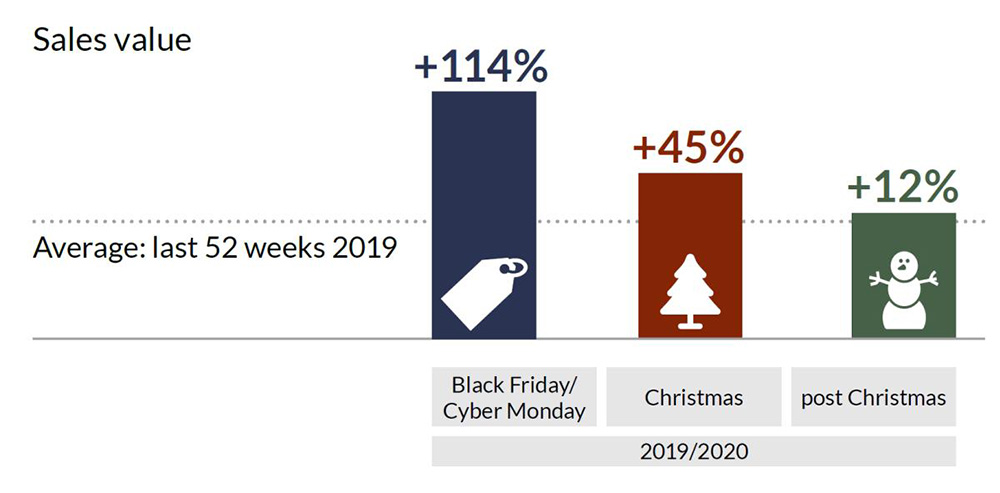 11. Water Bottle Peak Seasons
Just like other commodities that feature peak seasons and slack ones, water bottles also have their own. Mastering the peak seasons helps you to better manage your marketing strategies and make timely orders from your bottle manufacturers.
As is known to us all, Black Friday and Christmas weeks are peaks seasons for most commodities. At that time, many goods are sold at a comparatively lower prices, which considerably manages to attract customers in the United States. So, what about other times? What are the peak seasons for stainless steel water bottles?
The answer is summer months. During summer months a gigantic number of people rush to the beach enjoying the sunlight and various water activities such as surfing, fishing and sailing. They immerse themselves in entertainment during which body fluids lose quickly. Under that circumstances, every one, regardless of the gender, longs for icy-cold water for hydration, and that's why they purchase stainless steel water bottles that are capable of keeping liquids cold for a very long period of time. Therefore, it is suggested that you order water bottles in advance so as to embrace a big business success.
12. Top Water Bottle Manufacturers' Geographic Location
Zhejiang Province, China and Shanghai, China are the two top water bottle manufacturers' geographic locations. Manufacturers coming from these two regions can offer you quality products with lower prices in bulk. Here we offer you a comparison chart for your better understanding.
Top Water Bottle Manufacturers' Geographic Location
Locations
Advantages
Shanghai, China
abundant mineral resources nearby; abundant labor force; one of the most developed cities; convenient transportation; transportation hub in the Asia-Pacific region; advanced manufacturing equipment; free-trade zones
Zhejiang Province, China
matured manufacturing processes; experienced production operators; complete  manufacturing equipment; large port; abundant labor force; government policies
13. International and Domestic Best Water Bottle Manufacturers
It is quite understandable that some business starters may be afraid of dealing with international water bottle manufacturers due to a lot of factors. International businesses may be daunting for those who only work with domestic manufacturers, and it takes time to overcome this problem. In reality, collaborating with international companies is quite straightforward and is worth trying as you are exposed to more business opportunities.
14. What Are Your Options for International Water Bottle Manufacturers?
When it comes to the choice of international reusable water bottle manufacturers, people will cast their eyes to China. Why? According to Grand View Research, approximately 90% of the world's reusable water bottles (mostly stainless steel) are manufactured in China. Why?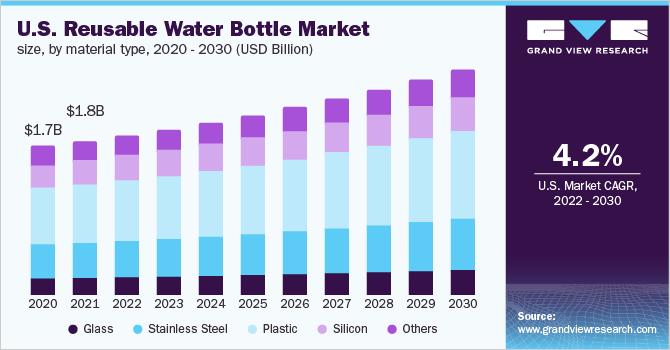 China holds the best production conditions and after decades of advancement, some capable Chinese manufacturers can provide the world quality metal water cups in bulk with the lowest prices. There is little profit for other countries or regions to set foot in this line. In addition, world-famous water bottles brands like Yeti, Klean Kanteen and Hydro Flask all choose to work with Chinese reusable water bottle suppliers, which further set the trend of ordering drinking gears from China.
Also, according to Grand View Research, the share of stainless steel water bottles is expected to grow in the next decade and the U.S. market CAGR will reach 4.2% during this period. There is no doubt that the reusable water bottle market is and will continue to be flourishing.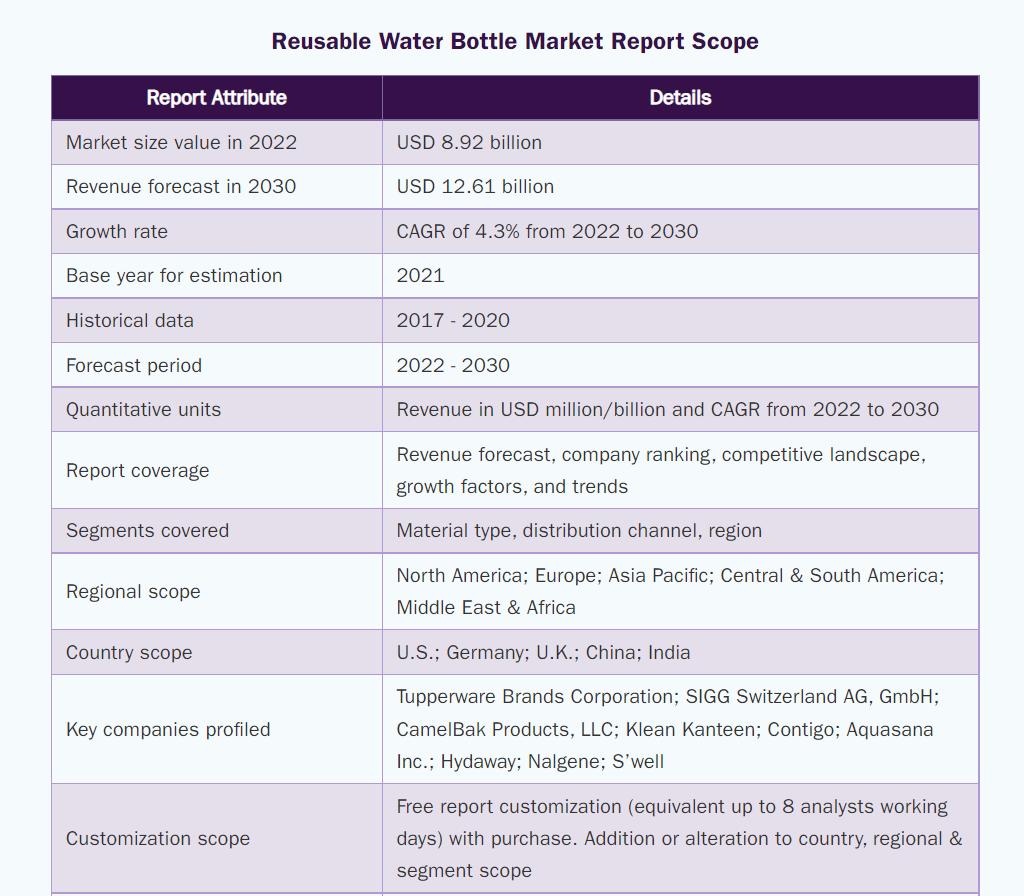 15. Top Insulated Stainless Steel Water Bottle Exporters in China
In the previous part we have pointed out that nearly all quality international reusable water bottle manufacturers have their roots in China. So who are they? In this part we will introduce to you the 4 best vacuum-insulated water bottle exporters in China. Just scroll down and we shall find them together.
15.1 KingStar
As one of the largest water bottle manufacturers in China, KingStar has been offering premium reusable water bottle for decades. We are famous for our tender OEM & ODM services, complete production equipment and matured manufacturing processes. After years of growth, KingStar has managed to make strategic and long-term collaboration with renowned water bottle brands in the United States. The quality products as well as the nice services overshadow many other counterparts in the metal cup market.
Modern Robotic Production Line
15.2 Hars
Hars is one of the oldest water bottle suppliers in China. This company sells quality stainless steel bottles, plastic water bottles, titanium alloy bottles, glass water cups, aluminum kettles and so on. Hars runs a variety of products, which is the most shining point of this company.
15.3 ECOShine
Founded in 2009, ECOShine is an emerging Chinese water cup manufacturer that provides clients with nearly all kinds of OEM and ODM services. ECOShine is devoted to offering customers healthy hydration gears and has expanded its business in recent years.
15.4 Keen Sourcing
Just as the name has told you, Keen Sourcing is an outstanding sourcing company that does not manufacture water bottles themselves. However, KeenSourcing is able to export quality water bottles in bulk continuously, and has been working with international entrepreneurs for years. Well, it is reasonably guessed that KeenSourcing is backed by a capable water bottle manufacturer in China.
16. Takeaways
The best water bottle manufacturer for your team depends on your real needs. But, those who have been working with some of the best water bottle brands across the world are good for sure, otherwise these brands would not make long-term cooperation with their designated international bottle suppliers.
Only when you have understood the market, chosen your business model, and known your products can you embrace a successful business in the day ahead.
We know it would be difficult for some business beginners to launch cooperation with international water bottle suppliers, but chance waits for no man, right? Remember, there is a door waiting for you to open. A door than leads to possibilities.
So, if you have decided to take a step further, you can contact trustworthy and reliable metal water cup manufacturers like us KingStar.
Tags: thermos bottle OEM manufacturer, vacuum flask maker, reusable metal drink bottle manufacturer, insulating cup manufacturer factory, bulk tumblers, wholesale blank water bottles, drink bottles in bulk, custom design 18/8 stainless steel food container, double wall dog bowls, can coolers, vacuum sealed koozies