We need regular water hydration, so do our loved dogs. We use insulated stainless steel water bottles to consume water in a healthy manner, so what about our dogs? Do they need a professional drinking gear to get hydrated? The answer of this question is undeniably yes! Just like us, dogs are supposed to use clean and reliable insulated dog water bottles. In this article, you will get basic information about a powerful insulated dog water bottle of PupFlask and Fuff Pupper.
PupFlask is a dog equipment brand dedicated to offering dog gears of premium quality for a variety of adventures. Their major products include dog water bottles, collars, leashes, harnesses, bowls, beds, grooming and also toys. The most popular products among their items are PupFlask dog water bottles, also called Tuff Pupper dog water bottles.
Tuff Pupper dog water bottles are, just as the name has told you, exclusively designed for pets like dogs. Their bottles are made by food-grade 18/8 (SUS304) stainless steel that contains no BPA. The Tuff Pupper bottle adopts a double-wall stainless steel insulation structure, which helps to lock the temperature inside of the bottle. The tough and sturdy stainless steel also protects the bottle from scratches and bites.
The most ingenious design of Tuff Pupper dog water bottle lies in the cover. The cover is made by BPA-free silicon that boasts flexibility and elasticity. As expected, the silicon top can be flipped up smoothly and swiftly to create a large "bowl" for pets to enjoy licking water. Simply press the water release button and water will flow out, and when pets have finished hydration, the remaining water can be recollected and drain back to the bottle for the next use without leaking. Also, the good resilience of the material enables the cover to be flipped back down in place. This convenient design is both practical and space-saving, making it unnecessary for taking a pet bowl along.
Currently, there are Tuff Pupper dog water bottles of 27 oz and of 40 oz available. The smaller one of 27 oz is portable and meets short-distance drinking water needs, while the bottle of larger capacity ensures a day's adequate water consumption. The choice of the bottle size also depends on the size of pets. If it is a small puppy, then the Tuff Pupper bottle with a volume of 27 oz can do the job.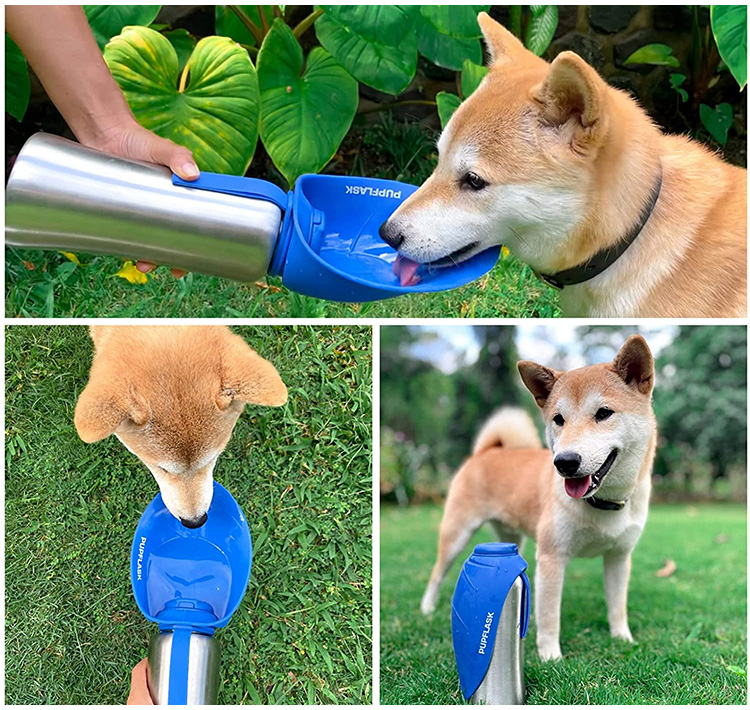 2. What Is an Insulated Dog Water Bottle?
When it comes to the insulation property of dog water bottles, the corresponding requirements are eased. The answer is obvious — dogs can not drink hot water, which scalds their digestive tract and even cause death under serious circumstances. Therefore, owners of pets would never fill the dog water bottle with hot water as the double-walled stainless steel can really prevent heat from radiating. Besides, icy cold water is not suitable for dogs to drink, either.
Despite the above specialness, a water bottle for dogs still should be an insulated one — preventing the tap water from further cooling down. An insulated dog water bottle is characterized by the application of a double-walled stainless steel structure that distinguishes the bottle itself from a single-walled stainless steel bottle or a plastic one. In general, a heat preservation dog water bottle can keep water warm for 12 hours or cold for up to 24 hours. Again, obviously there is no need to fill the dog water bottle with piping hot water.
3. About Tuff Pupper
Tuff Pupper is a dog equipment company born for premium gears for dogs. They design high-quality products aiming to offer better moments spent with furry families outdoors. In addition, providing customers with affordable dog gears has long been the aspiration of Tuff Pupper, and that's what they have fulfilled during the past years.
The reliability as well as the durability of Tuff Pupper dog equipment has been recognized by many pet owners who later share the joyful moments with pets brought by Tuff Pupper's products via social medias such as Instagram and Tiktok. Although they have gained a huge success, Tuff Pupper continues to explore the possibility of their products, designing fancy yet practical dog gears partly on the basis of customers' suggestions and requirements.
4. How Can I Build a Brand Like PupFlask?
The reason why PupFlask can score a bull's eye comes down to two factors: ingenious designs and quality products. Take Tuff Pupper dog water bottle as an example. This water bottle carries a unique design that no one has ever worked out before, which at once draws people's attention and hit the market. However, the distinctive design along can not make a difference, it must be at least practical and useful. Tuff Pupper dog water bottle can be either used as a water container or a temporary drinking bowl for pets. The "bowl" does not take up extra space because it can be flipped back to shroud the bottle as a protective silicon shell when not used. It is undoubtedly believed that an innovative design can make the product more competitive.
The other factor that bolsters the success of PupFlask is quality products. If the Tuff Pupper dog water bottle is made by inferior material that is susceptible to scratch, impact or rust, their brand can never become famous or even be accepted by the public. Quality products offer a solid backing to the innovative design, and it is their perfect combination that helps PupFlask move off. PupFlask insulated dog water bottles are manufactured in China. There are several top water bottle manufacturer in China like KingStar who realizes complicated designs with low cost. In addition, the rich production experience also makes Chinese-made bottles competitive.
To conclude, in order to establish a successful brand like PupFlask, you must take into account ingenious designs and quality products seriously.
5. Can the Quality of PupFlask Tuff Pupper Bottle Be Improved?
Although the Tuff Pupper dog water bottle is good, it is not flawless, and its quality can be upgraded for sure. As a professional water bottle manufacturer, KingStar here presents 3 key points:
Normally, thickening the stainless steel can enhance the durability as well as the insulation performance of dog water bottles. Since the dog bottle requires does not have strict requirements for insulation property, the thickened stainless steel mainly boosts the anti-impact function of Tuff Pupper dog bottle. By building up the stainless steel body, the bottle can effectively withstand impact, minimizing the occurrence of dents appearing on the shell.
The lid of PupFlask Tuff Pupper dog water bottle is made by plastics. Although such a lid contains no BPA, it is quite fragile. A great number of complaints about the broken plastic lid can be found on Amazon, which directly points out the inferior quality of the lid. KingStar suggests using PP or Tritan to replace it. PP and Tritan are extremely durable plastics that features good hardness. Compared with normal plastics, these two advanced types are much more durable, sturdy and also expensive.
PupFlask Tuff Pupper dog water bottle does not fit into a standard car cup holder. It is reasonably guessed that PupFlask may think the car cup holder is not designed for pet water bottles thereby designing the unmatched one. The fact is that people keep asking questions like "Will this fit into a standard car cup holder?" So if the shape of the bottle is redesigned, the quality is expected to be upgraded.
6. Does the Bottle Leak Water?
When used properly and correctly, the bottle does not leak. There is between the bottle and the silicone top a seal sealing the bottle tightly. The bottle minimizes the possibility of leakage and will not leak, unless the water release button is pressed or the lid is broken.
7. Can I Get a Replacement Lid?
PupFlask does not offer a free replacement lid. If the lid is broken, they suggest customers to get  a new bottle, which costs a lot. And complaints about the fragile lid can be seen on Amazon.
8. Will PupFlask Fit into a Standard Car Cup Holder?
The Tuff Pupper dog water bottle fails to fit into a standard car cup holder. The base diameter of PupFlask is less than 3 inches, so it can fit all cupholders. When KingStar, the leading insulated cup manufacturer, developed the water cup, considering the convenience of travel, the diameter of the cup was limited to less than 3 inches.
9. Is PupFlask Dishwasher Safe?
The Tuff Pupper dog water bottle is partly dishwasher safe: the lid can be washed in the dishwasher yet it is not recommended to do that, which may bring about breakage; the stainless steel bottle is completely dishwasher safe.
10. What Is the Size for the Large Dog?
At present, PupFlask provides customers with dog water bottles of 27 oz and of 40 oz. The 27 oz Tuff Pupper water bottle is designed for small dogs such as Chihuahua whereas the 40 oz is suitable for large dogs to get hydrated in the wild.
11. Custom Insulated Dog Water Bottles
In KingStar, when it comes to custom insulated dog water bottles, we offer custom shape, size, color, logo, packing, etc.
KingStar is backed by a professional R&D team that is charge of custom shape of insulated dog water bottles. We have been dedicated to manufacturing water bottles of varied designs for decades and have the capability of meeting your reasonable requirements.
Custom mold for insulated dog water bottles:
Custom design bottle mold (water pressure forming mold, stretching forming mold, welding mold, etc)
Custom design cap/tumbler lid tooling (plastic injection mold)
Electronic module of smart dog water bottles
When it comes to the size of insulated dog water bottles, we can offer you bottles whose capacity ranges from 10 oz to 128 oz! You are supposed to find a proper volume for sure!
As for the color, you can turn to the Pantone Matching System to search for the loved ones and tell us the corresponding codes. KingStar makes sure that the final products will catch your eyes.
KingStar allows you to print your logo/lettering onto the insulated dog water bottle by an array of processing techniques:
Logo Printing Options: Silk Screening/Silk Printing, Heat Transfer, Digital Printing, 3D
Printing
Engraving and Embossing: Laser Etching/Engraving, Embossing (by Punching or Stamping),
Debossing (by Punching or Stamping)
Labeling: Metal Emblem, Tag
If you want to customize the packaging of insulated dog water bottles, here we offer you a complete range of packing materials: gift boxes, display boxes, bubble bags, UPC sticker labels, hang tags, etc. In addition, we can further personalize and detail the packaging if you have special requirements.
Order Custom Water Bottles & Tumblers
Get competitive price and premium custom drinkware from KingStar — Short lead time, door-to-door global shipping, strong Engineering support!