Are you considering importing or selling stainless steel drink bottles in the United States? If so, you may need some information to get some basic knowledge of regulations, labeling requirements and material restrictions and to help you get your business start. As a leading custom stainless steel water bottle manufacturer, KingStar receives tens of mails every week inquiring about Prop 65 from bulk water bottles / tumblers / Cups buyers and water bottle Amazon FBA sellers. Our Research & Development team worked out this article for your reference.
What is Prop 65?
California Proposition 65 (also known as the Safe Drinking Water and Toxic Enforcement Act of 1986) is a state regulation in California that applies to consumer products. This regulation chiefly bans:
unrestricted use of toxic chemicals in consumer goods without proper warning
Discharge of listed substances into drinking water sources
The purpose of California Proposition 65 is to protect the people of California from harmful chemicals. California Environmental Health Hazard Assessment Office (OEHHA), which is responsible for introducing California Proposition 65, regularly (usually once a year) updates the list of chemicals that may cause the following health problems to humans:
Cancer
Developmental diseases
Female reproductive problems
At present, about 1,000 chemicals have been added to this list, and this number may continue to grow in the future.
Which Product Categories are Covered by California Proposition? List of Products (Examples Only)
California Proposition 65 stipulates natural and synthetic chemicals to be added to products, which may cause human health problems. Please note that CA Prop 65 is applied to all consumer goods, not just stainless steel bottles and other food contact materials.
In order to quantify the acceptable chemical doses used in different products, California Proposition 65 established a mechanism called "Safe Harbor Level", which set the maximum exposure limits of listed substances.
Examples of restricted substances:
Drinkware
Lead
Cadmium
Mercury
Phthalates
Garments and Apparel
Some chemicals restricted by California Proposition 65 (such as flame retardant or formaldehyde) may appear in clothing and textiles such as carpets, rugs, camping tents and linens.
Flame retardants (such as PFOA) are usually used in textile products to reduce the risk of fire. While formaldehyde is also a dangerous substance that can be found in these products.
In addition, lead and cadmium are sometimes found in zippers, snaps, buttons, polymers and coatings. And phthalates may exist in PVC, ethylene, screen printing and rubber buttons.
Household Appliances
Toxic chemicals and heavy metals that may be contained in electronic products include lead, antimony and polyvinyl chloride. California Proposition 65 restricts the use of all the above chemicals.
Benzene and carbon monoxide may be contained in products such as stoves, dryers and water heaters. Cadmium and its compounds can be found in many electronic products, such as rechargeable nickel cadmium (NiCad) batteries. Products using nickel-cadmium batteries include video camera, mobile and electric vehicle.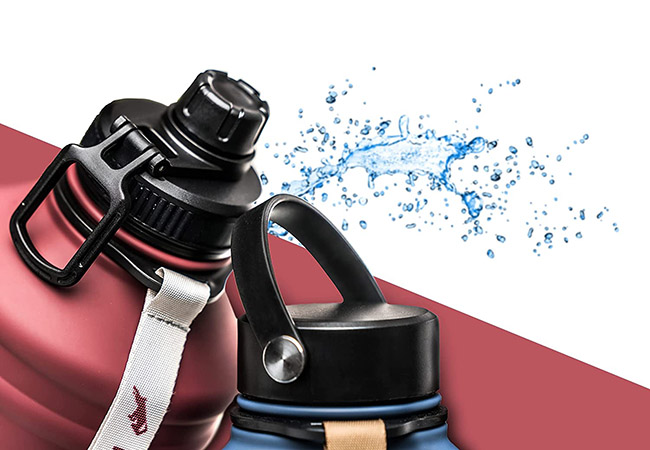 California Proposition 65 Lab Testing and the Testing Cost
An authorized third-party laboratory testing company usually provides complete and reliable chemical testing services. This is one of the most direct ways to help verify whether the materials comply with CA Prop 65. The procedure is necessary when you consider importing stainless steel bottles into the American market.
However, most stainless steel bottle suppliers in Asian countries are usually unable to provide the laboratory testing report of California Proposition 65. This does not mean that their goods do not conform to CA Prop 65.
The cost of a laboratory testing is not very costly, but it typically depends on the laboratory and goods. Besides, the cost will be multiplied if the product contains different materials and colors.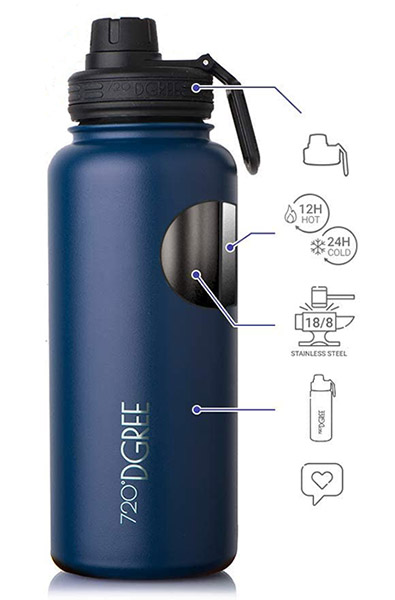 Warning Labeling Requirements
Testing for compliance with California Proposition 65 is not compulsory. You can choose to put a warning label on your product or prove that your stainless steel bottle does not contain any restricted chemicals beyond the recommended limits through laboratory tests.
However, if your stainless steel bottles contain chemicals beyond the "safe harbor level", they need to have a "clear and reasonable" warning label. The label should have an exclamation point inside a yellow triangle followed by a warning message. For example:
⚠️ WARNING: This product can expose you to chemicals including [name of one or more chemicals], which is [are] known to the State of California to cause cancer and birth defects or other reproductive harm. For more information go to www.P65Warnings.ca.gov.
Water bottle buyers, importers and sellers of stainless steel bottles in the US must attach warning labels to California Proposition 65 under the following circumstances:
(possibly) products containing chemicals exceeding the safe harbor level
Products containing listed chemicals, in which California Proposition 65 has not yet stipulated the safe harbor level (unless the company can prove that exposure to chemicals will not cause potential risks of cancer or reproductive harm to consumers)
Actually, the only way to assess whether your product is exempt from the warning requirement is to conduct the necessary chemical tests. Therefore, we suggest that you consult a qualified professional testing laboratory to determine the chemical content in your products.
Country of Origin
Many countries, including America and China, require importers to offer country of origin label for their products. Therefore, make sure that your bottle carries country-of-origin labelling such as Made in China and Made in the UK.
California Proposition 65 Requirements for Stainless Steel Water Bottle Importers & Amazon Sellers
Whether you are a stainless steel water bottle importer or an Amazon seller, please conduct all required laboratory tests on your stainless steel bottles and make sure that they comply with California Proposition 65 Requirements. On top of that, Amazon requires sellers on Amazon to comply with California Proposition 65, so before launching your bottle on Amazon, please read the rules of sales on Amazon carefully.
Specifically, Amazon requires sellers to use its internal system to disclose product information including warning types and related chemical names of California Proposition 65. Warning labels should be attached to products, and the same information should also be displayed on the product list page.
The following list includes examples of Amazon product categories that may require warnings from California Proposition 65:
Lead crystal glasses
Ceramic tableware
Electrical cords
Beauty products
Stainless steel drinkware
As mentioned earlier, this regulation applies to all consumer goods. However, there are some types of businesses are spared from the requirements of California Proposition 65:
Companies with fewer than 10 employees
Governmental organizations
Public water supply system
However, sometimes this regulation can be applied to enterprises with fewer than 10 employees. For instance, you have to comply with California Proposition 65 if you import consumer goods and resell them to retailers or other companies with 10 or more employees even if you only have 3 employees.
What are the Consequences if You Sell Non-compliant Stainless Steel Bottles in California or on Amazon?
If a product sold in California contains chemicals listed under Prop 65, but there is not a clear warning label on the product, the seller will receive a 60-day notice of violation. Within the period, the seller may face legal challenge from the law enforcement. Besides, if nothing has been done to solve the problem, private parties can file a lawsuit after 60 days.
Considering the exorbitantly fines and reputation damage of Prop 65 litigation, water bottle importers and Amazon sellers in the US are now having a responsible attitude to comply with Prop 65 and making sure that their goods meet all those requirements.
As for Amazon, it may remove any product listing on its platform according to the regulation and even suspend your account if you severely violate its rules.
How to Ensure Your Listing Water Bottles are Prop 65 Compliant?
Sourcing a reliable water bottle manufacturer with rich experience Prop 65 / CA65
Sampling testing periodically.
KingStar is a leading water bottle manufacturer supplier. Our all drinkware (water bottles, tumblers, cups, growlers, lunch boxes, food containers, dog pet bowls, beverage containers, custom shaped vessels, OEM jugs etc) are all Prop65 / FDA / LFGB compliant.
Have more questions? Please feel free to send email to sales@waterbottle.tech, you will get response within 24 hours.