KingStar has been exploring how to use the leading production capacity and technological power to make outstanding contributions to environmental protection. As the world's leading water bottle manufacturer, KingStar has been manufacturing water bottles and water bottle accessories from recycled ocean plastics after a long period of research and exploration. The manufacture of bottles and bottle accessories from ocean plastics has become one of its latest research achievements and applications.
Unlike common plastics such as Tritan, PP, etc., marine plastics have very special physical properties that pose a great challenge to the mold making and injection molding process. KingStar set up a special R&D team early on to overcome all the difficulties and make the reuse of ocean plastics in the bottle industry a reality. Not only is the process feasible, but also the products produced are harmless to the human body and absolutely BPA free.
The problems of water pollution and biological extinction caused by ocean plastic waste have already made human beings feel a sense of crisis and actively put into action. Some of KingStar's clients and potential clients are targeting ocean plastic waste and using it to make products or packaging in addition to recycling plastic. Which promotes the concept of environmental protection and connects brand culture with sustainable development.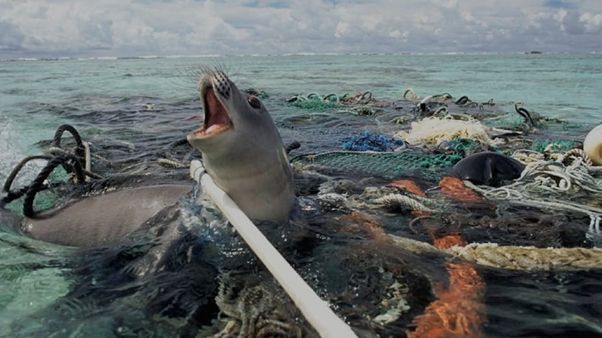 The Severity of Ocean Plastic Pollution
The topic of ocean plastic waste seems like a cliché. People who have paid a little attention to it may have seen some of the shocking and horrific photos above. But most people who live inland have little experience of this, and those who do not live by the sea may not have been able to witness this by themselves.
1.1 A large amount of plastic is dumped to the ocean and is difficult to degrade
According to estimates published in the journal Science in 2015, about 10 million tons of plastic products were poured into the oceans globally in 2010, and this amount will double by 2025 if there is no strengthened intervention. In the natural environment, it takes tens or even thousands of years for this plastic waste to fully decompose. It is estimated that in 2020, the total weight of plastic products produced globally (8.3 billion tons) has exceeded the weight of the world's land and ocean animals combined (4 billion tons). Under the action of ocean currents, the garbage flowing into the ocean has even gradually piled up a new continent.
1.2 The impact of plastic waste on ocean lives
Some animals are entangled in discarded fishing nets, masks and other rope-like garbage when they are young and cannot break free. As they slowly grow up, plastic products will strangle their bodies until their wounds become inflamed and die, accompanying these unfortunate animals throughout their lives.
Some animals accidentally eat small pieces of brightly colored plastic, which are difficult to break down naturally and even less digestible. The plastic gradually fills up their stomachs, making it impossible for the animals to eat.
The above plastic hazards are not new to us, but seemingly remain far from our lives. As of 2018 there is a total of over 4.9 billion tons of plastic waste in the natural environment.
KingStar: Water Bottle Maker Dedicates to Ocean Plastic Recycling
Some people must be wondering whether the water bottle made of recycled ocean plastic is really harmless to the human body or whether the beverage in a bottle made of ocean plastic is really safe to drink or not.
In fact, solid waste recycling technology is strictly in accordance with various necessary procedures like sterilization, disinfection and purification. This plastic waste is commonly used to produce recycled products by breaking down and re-polymerizing.
With depolymerization technology, both colored PET beverage bottles and other hard-to-reuse ocean plastic scraps can be magically regenerated into pure monomeric raw materials that can be polymerized to produce food-grade bottles or bottle accessories.
According to the test results of multiple samples sent to third-party testing institutions such as SGS, KingStar's conclusion is: They are safe!
KingStar's engineering team has set stringent rules to ensure that custom bottles made from ocean plastics are toxic-free, BPA free, including the following aspects.
Making sure the raw materials of ocean plastic particles sent by suppliers meet requirements of KingStar.
Making sure all the auxiliaries applied in the production process are BPA free, toxic free and lead free.
Ensuring dry and well-ventilated storage conditions in the warehouse.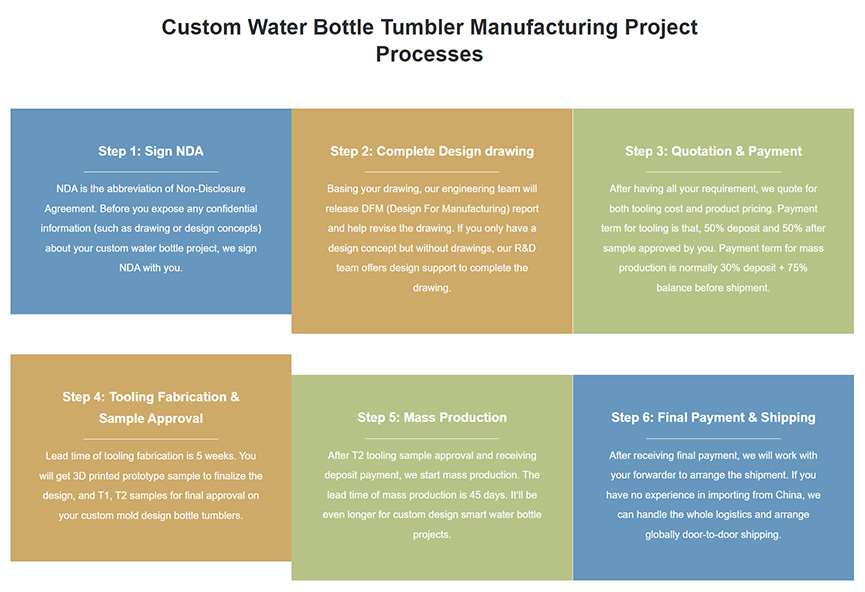 How to Cooperate with KingStar to Produce Ocean Plastic Water Bottles
 Using marine plastics to produce bottles or bottle accessories can significantly improve a company's environmental attributes, enhance its brand image, and help address ocean pollution. However, bottles made from marine plastics must also pass FDA, CA65/Prop65, LFGB and other tests to ensure they are not harmful to the human body and they can enter major markets around the world.
At the current stage, KingStar hopes that customers can provide ocean plastic raw materials in order to make related projects run smoothly and pass the relevant tests. The minimum order quantity is 5,000 units.
As a leading manufacturer of ocean plastic bottles, KingStar welcomes your inquiries by email (sales@waterbottle.tech) or by phone.
Top Brands Engaged in Ocean Plastic Waste Recycling
Coca Cola
Coca-Cola developed an ocean bottle. This bottle contains 25% ocean plastic content from ocean waste plastic that is cleaned and recycled from the beaches of Spain and Portugal.
Procter & Gamble
Procter & Gamble announced the development of a shampoo bottle, named the "Fairy Ocean Bottle," which consists of 10% ocean plastic (which contains up to 25% recycled ocean plastic) and 90% recycled plastic.
Dell Computer
Dell launched a new plastic computer box in 2017, made from 25% ocean plastic waste and 75% mixed recycled waste. Dell partnered with Lone Whale, a ocean ecology foundation, to launch NextWave, an open advocacy campaign to give all private organizations, scientists, and NGOs a clear understanding of how the ocean waste treatment project works, the benefits of the project, and how it can be sustainable.
Adidas
Adidas previously partnered with a non-profit ocean conservation organization called "Parley for the Ocean" to launch a limited-edition sneaker with threads made from ocean waste plastic. Adidas also launched a Yeezy series of sneakers made from recycled ocean waste materials in 2016 to commemorate World Oceans Day.