In the past 2022, there is no greater event in the insulation water bottle industry than the recall of tens of thousands of insulation water bottles by the "Green Sprouts" brand due to the lead issue. Lead does great harm to human body, especially to children. As a leading insulated cup manufacturer, KingStar will share how to make lead free vacuum insulated stainless steel drink bottles/cups/tumblers/flasks/bowls/containters/vessels/jugs/drinkware in this article.
1. Green Sprouts Recalls More Than ten thousand Toddler Water Bottles, Cups Over Risk of Lead Poisoning
Green Sprouts, a company that makes most products for kids and toddlers, has recalled over ten thousand stainless steel water bottles engineered for kids because of the risk of lead poisoning.
It is reported that the bottom of these recalled stainless steel drinkware may fall off, posing a risk of lead poisoning to children. Lead is toxic and can cause serious health issues when exposed to and consumed by adults, let alone kids.
The company has received several reports of broken bottom base yet no injuries are reported. But the incident has sparked fears among consumers, particularly parents, about the chemicals such as lead used in the manufacturing of goods for kids.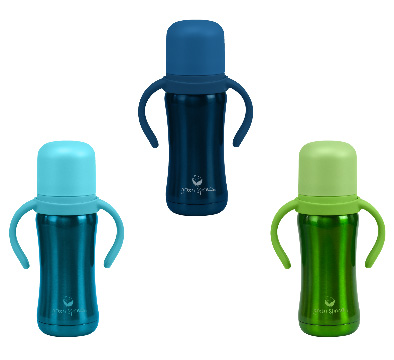 2. What Severe Health Problems Will Lead Cause to People, Especially to Kids?
Lead is a type of chemical that naturally exists in the environment. As a heavy metal, it can trigger off a series of health problems, from behavioral problems and cognitive degradation to seizures and even death. However, lead has long been adopted in people's daily life, and its presence is observed in many areas and objects, say, paints, batteries, pesticides and gasoline. Decades ago research had clearly showed that lead could be extremely detrimental to people, particularly children.
If people get exposed to lead for a long time, they may be susceptible to health problems such as kidney problems, anemia, memory and concentration problems. More seriously, those with high blood pressure reproductive problems and hearing issues may encounter a worse situation. Because these symptoms may appear slowly or be caused by other factors, lead poisoning is easily overlooked.
Lead is capable of penetrating the placental barrier and can damage the nervous system of developing babies. In other words, the unborn baby will be affected when his/her pregnant mother is exposed to lead. Studies have found that even a small amount of lead ingested by babies can dangerously affect their behavior and future intelligence.
Studies have also presented that lead can do harm to many systems of the body, notably the central nervous system that controls the brain. This could pose a threat to children whose nervous system is still developing.
Prolonged exposure to a lower level of lead can harm children's growth and bring about behavioral issues such as poor school performance and hyperactivity/ADHD. However, things become worse when kids are exposed to a higher level of lead. Usually, these poor children may come across severe developmental issues such as lower IQ, developmental delays, learning and behavioral difficulties as well as hearing problems.
To conclude, if children or toddlers accidently ingest a certain quantity of lead, they may suffer from nerve injuries or even death.
3. How Does the Manufacturer Ensure That the Insulated Water Bottles Are Free of Lead?
To ensure that the insulation cup produced does not contain lead, the insulation manufacturer needs to control from two aspects: material and process.
3.1. Materials
304, 316 and 201 stainless steels do not contain lead, so there is no need to worry about stainless steel materials.
The plastic used for making the cup lids/caps/covers and handles, such as PP, Tritan, AS, etc., does not contain lead.
The glass beads for sealing vacuum points include lead and non lead, which is the key point. If you want to make sure that the cup does not contain lead.
Using lead-free glass beads to seal the vacuum pumping points is complicated and difficult to control. The manufacturing of many small insulated cups is beyond our control.
3.2. Manufacturing process
Ensure that production tools and accessories are free of lead. Cooperate with the third-party inspection agencies to regularly spot check environmental lead content.
4. How Much Does the Production Cost Increase for the Production of Lead-free Insulated Water Cups?
For the same insulated water bottle, if it is to ensure that it does not contain lead, it must use lead-free glass beads, and apply more complex vacuum technology, which increases the cost by about USD0.2 per insulated cup.
Want to purchase private label lead free insulated water bottles in bulk? You are at the right place. KingStar is the leading vacuum flask manufacturer. We provide one-stop vacuum insulated container vessel manufacturing service from product design, prototype fabrication, tooling engineering, mass production to global shipping. Send an email to sales@waterbottle.tech, you will get response within 24 hours.