Hydration is essential for both children and adults. Having the right water bottle will have an impact on how much water you drink every day. However, many adults can not realize the importance of making your kids drink enough water every day, so you must find some innovative ways to ensure that they get enough water. There are many children's water bottles on the market, but you need to find the right one that will encourage your children to drink water.
This guide will help you choose the most durable and adorable metal water bottle for children.
Warm Water to Hydrate Your Kid Healthier
Kids are relatively vulnerable to cold water so it might not be a good idea to get your kids hydrated by drinking much of cold water. Besides, studies have shown that drinking cold water can reduce heart rate and cause diseases such as vagus nerve.
It is said that drinking warm or hot water can help people go to the toilet more smoothly, or make you feel better when your sinuses are congested.
Hot drinks can give you a very comfortable feeling. If you catch a cold or hot steam enters your nasal cavity, it can relieve some symptoms. Therefore, you may want to buy your kids a nice and portable metal bottle to better hydrate them.
How Many Cups does Your Child Need Per Day?
The amount of water children drink varies with age, weight, activity level and weather conditions. However, the general rule is to take half of your child's weight (up to 100 pounds)-this is the number of ounces of water they should drink every day (for example, an 80-pound child should drink 40 ounces of water).
Although the demand for water varies, according to the age and gender of children, here is a general suggestion on how much water children should drink every day.
1-3 years old (girls and boys): 4 cups of water/day
4-8 years old (girls and boys): 4 cups of water/day
9-13 years old (girls): 7 cups of water/day
9-13 years old (boys): 8 glasses of water/day
14-18 years old (girls): 8 cups of water/day
14-18 years old (boys): 11 cups of water/day
If you have questions about your child's water intake and hydration, please consult your pediatrician.
An Insulation Water Bottle to Hydrate in Convenient
Consistent temperature: They stay hotter or colder longer. As we mentioned before, insulated water bottles can keep the temperature of drinks. If you want to keep your water cool, just put a few ice cubes in it and it will keep a refreshing temperature for hours on end even if you put it in a very hot car. Or, in the cold winter, when all you really need is a hot drink So, insulated water bottles are perfect for people all year round.
No more puddles: The insulated water bottle does not sweat or leak. Instead of a layer, the insulated water bottle has two layers of materials to prevent condensation and leakage.
A healthy toxic-free water bottle: Do you hate the strange taste of your water? Stainless steel can prevent your water from getting stale or smelly. Sometimes plastic water bottles can make your water taste strange or produce peculiar smell.
The insulated water bottle is usually made of stainless steel, which can prevent abnormal taste and keep the water fresh for multiple purposes. You can use it to make soup in hot summer!
A reusable water bottle: Drinking water regularly every day is the basic thing to keep us hydrated and energetic. The problem is with ordinary bottles. We fill plastic bottles over and over again, or worse, we buy them and throw them away which will definitely damage the environment.
When the weather is good and summer is hot, people unconsciously start looking for a bottle of water to accompany them in the hot summer, whether it's walking, beach, office or gym.
Fortunately, the current insulated water bottle is a reusable water bottle, replacing the disposable water bottle to stop more and more pollution.
Can I Get These Thermos Flasks Customized?
The answer is YES. You can add your unique signature, print your company logo, or personalize your kids' favorite images on the bottle! Many companies now offer customized thermos bottles which will make an adorable and perfect bottle for your kids and help motivate them to drink more water daily. It will be an ideal gift for your kids.
Kingtar is a reputable company, providing OEM and ODM service networks all over the world. It is also a noteworthy manufacturer and supplier of insulated bottles, committed to providing an enhanced range of high-grade quality customized thermos bottles. Our high-quality thermos bottle is made of stainless steel and our factory is equipped with advanced machines and all kinds of modern equipment, which enables us to produce the latest design.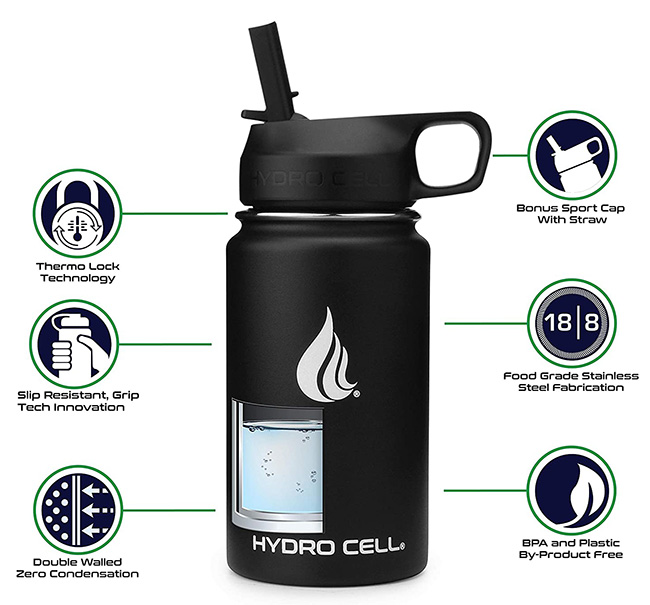 KingStar's recommendation to your kids
Here are some thermos flasks for kids that Kingstar wants to recommend based on our research.
Hydro Cell 14oz Insulated water bottle with Straw: If you have a child who likes warm water, this insulated stainless steel water bottle would be an ideal option. This water bottle can keep the water warm for more than a day without condensation, so your children do not have to worry about that his or her homework would become wet in the schoolbag. The outer layer of the bottle is non-skid, which makes it easier for children to hold. Hydro Cell comes in a variety of stainless steel colors and designs, so your child should be able to find a product that suits them.
Contigo Autospout Straw Gizmo Flip Kids Water Bottle:
Contigo Gizmo is designed for children. This colorful bottle is designed to be leak-proof, even when it is opened and placed sideways. There is a convenient spout cover, which can prevent bacteria from entering your child's water. The plastic is free of BPA and phthalates. Finally, a convenient lifting ring allows children to hang a finger on a water bottle or attach it to a backpack or clip.
CamelBak Eddy BPA Free Durable Kids Water Bottle:
The CamelBak water bottle for children is made of BPA-free plastic. The volume of the bottle is 0.35 liters, which is small enough for children. It is easy to operate, equipped with a straw, and children can easily drink water from it. The straw has a lid, so it won't get dirty. The bottle is easy to clean, so it is recommended to wash it in a dishwasher. The bottle is very colorful and there are many different designs to choose from. It will keep your children hydrated and happy at the same time. The company provides a lifetime warranty for bottles, and they will replace them for you if there are any quality problem.