Chilly's is a world-famous water bottle brands whose drinkware products are purchased and pursued by people globally. The BPA free material, durability, simplicity of beauty and other good properties of Chilly's water bottles help their bottles resoundingly hit the market. In this article, KingStar will share with you some information about Chilly's water bottles for your reference. Just scroll down and finish reading it!
Who Owns Chilly's
Chilly's is a British brand that was founded by Tim Bouscarle and James Butterfield in 2010 with its head office set in London. The original aspiration of this water bottle brand is to offer people portable and reusable cold water containers in place of disposable plastic water bottles. Committed to this aim, Chilly's team manages to design the fashionable and modern stainless steel drinkware products that feature a perfect combination of high performance of traditional insulated flasks and the convenient of single-use plastic bottles.
Chilly's has expanded their business and has promoted a wider option of drinking containers including stainless steel water bottles, coffee cups, food pots, bundles and various accessories. Currently, this brand takes a good market position in European countries like the UK.
Mission of Chilly's
The mission of Chilly's, in their own words, "is to accelerate the adoption and daily use of reusable drinking products". That's why Chilly's continues to design and release reusable stainless steel products.
In order to fulfill their mission, Chilly's actively organizes and participates in various healthy campaigns such as the Refill Revolution. They also share with people a healthy recipe every week to promote healthy diets in the Lunch Box. Their efforts to popularize a healthy lifestyle have been recognized by the public.
Can Chilly's Bottles Keep Drinks Hot?
Chilly's water bottles are made by stainless steel as the main body and silicone as the seal ring in the lid. Their reusable water bottles are equipped with a double-walled stainless steel structure to yield perfect insulation performance. It has been tested that Chilly's stainless steel bottles are capable of keeping water warm for up to 12 hrs or cold for up to 24 hrs (when well-sealed and sit in).
In order to reach the ultimate value of insulation performance, it is suggested to fill the Chilly's bottle with piping hot water/boiling water first and then empty out it to preheat the bottle. After that, hot liquids can be poured into the bottle, which is expected to enhance the heat-retaining property of the Chilly's stainless steel bottle. Chilly's stainless steel water bottles are also applicable for containing cold liquids as offering customers quality cold water containers is one of their founding aims. And as the result has shown, they do work out perfect bottles for the preservation of the heat!
In addition to the adoption of containing liquids, Chilly's coffee cups/food pots can be used as a food container. The wide mouth of the cup allows food to pass easily and store in there warmly, and the outstanding sealing function ensures that no liquid like soup will leak out. It should be noted that if the bottle/cup is filled with food, it should be thoroughly cleaned as the remains may bring about bacteria and molds that do harm to body health.
Can You Put Chilly's Bottles in the Fridge?
Yes, you can. Fridge will not damage Chilly's bottles as the thick stainless steel walls can also prevent chilliness from penetrating into the bottle. Insulated bottles will never be affected by the temperature outside as long as the vacuum space is safe and sound. Therefore, putting Chilly's bottles into the fridge is okay, but it will not make the liquid in the bottle become cooler, and there is no need to do that.
If you insist on further cooling the liquid, it is advised to chill the bottle with ice cubes before filling it with the drink. Well, if it is water, you can just put ice cube into it and mix them together, which will not change the pure flavor.
Is Chilly's Ethical?
As a company shouldering social responsibility, Chilly's is ethical and sustainable. This company fully shows respect to human rights and tolerate no modern slavery. It is held by Chilly's that their product suppliers shall not exert too much pressure on workers and Chilly's has been devoted to mitigating risks of modern slavery. Chilly's transparent statement complies with the UK Modern Slavery Act 2015, which distinctively showcases this company's aspiration of being ethical. Also, Chilly's encourages staff to spot and report breaches of modern slavery & human trafficking.
Although Chilly's is confronted with serious issues resulted by Covid-19, Chilly's actively respond to the pandemic during which supports are given to both their colleagues and customers. In Chilly's, there are policies exclusively introduced to tackle with ethical issues like forced labor, child labor and human trafficking. In addition, Chilly's pays close heed to environmental protection and has made corresponding policies to fulfill their obligations, and regular training is given to Chilly's employees to achieve better growth.
Are Chilly's Water Bottles Worth It?
Yes, Chilly's water bottles are by all means worth it. They are made by food-grade stainless steel 18/8 (SUS304) that does not contain harmful elements like BPA. The double-walled stainless steel is conducive to preserving heat inside of the bottle, and enables the bottle to yield remarkable insulation results. And their bottles are plated with a layer of copper that further minimizes the escape of heat.
On the outer stainless steel shell there is a layer of sturdy finish that aims to protect the bottle from scratch and rust. Again, the nice and practical finish made by premium molding powders is BPA-free, too. The finish of Chilly's stainless steel water bottles will not peel off easily, designed to offer a lifelong service.
The screw lid of Chilly's stainless steel water bottle ensures that the bottle do not leak or spill when placed in the bag sideways or even upside down. The perfect sealing function sometimes inevitably brings a squeaking sound as these parts are tightly matched, so if the bottle is used in a quiet occasion, it may draw others' attention or even disgust. Moreover, compared to a straw lid, the screw lid may not be a perfect option for customers who are fond of doing workouts as they need a handy straw to get hydrated quickly.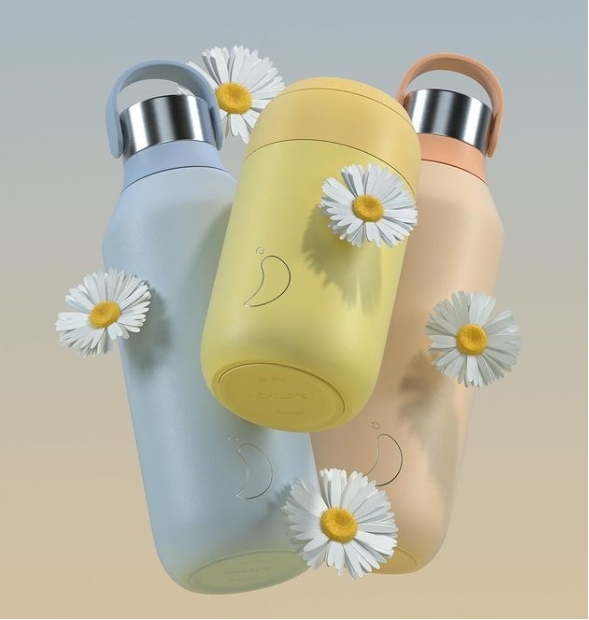 Chilly's offers a variety of stainless steel water bottle sizes including 260ml, 350, 500ml, 750ml and 1,000ml. The smallest one is perfect for carrying in a coat pocket or a bag, whereas the one of 750 ml offers people adequate water supply.
Chilly's water bottles are elegantly designed, featuring a combination of simplicity and natural beauty. Take a close look at the patterns as well as colors on the shell, you can sense the magic of their designs. Chilly's would release at least one new design of bottle every month in its artist series that are characterized by uniqueness and feminine territory. There are a great number of feminine designs like fresh fruits, nice floral and cute animals of abstract. What's more, Chilly's Series 2 water bottles have won the Red Dot Design Award 2021 & iF Design Award 2021, which further proves the success of Chilly's designs. But most of the designs are adopted in stainless steel water bottles of 500 ml, and bottles of other capacity such as 750 ml and 260 ml fail to cover all the design options, which may cause several complaints.
When it comes to the cleaning, Chilly's suggests that their bottles should be washed by hand instead of a dishwasher which may flake the finish.
How Can I Build a Water Bottle Brand Like Chilly's
Chilly's water bottles are by all means good as they have sustained the trials of time and won the loyalty as well as the trust from customers all over the world. But, Chilly's does not manufacture water bottles themselves, where do they come from? In fact, 95% of the world's stainless steel water bottles are made in China. China is home to abundant resources and complete water bottle manufacturing equipment & process. The unique advantages enable this country to become the major water bottle supplier globally. So if you want to set up a successful and profitable water bottle brand like Chilly's, it is then suggested to find a reliable and trustworthy water bottle manufacturer like KingStar in China as a solid backing.
Quality water bottle products together with well-targeted marketing is key to making your own water bottle business profitable and promising! KingStar can offer you premium drinkware products with agreeable prices in bulk, and with our good products, you can make your brand strong and competitive.