Gift manufacturing companies often receive such requirements from customers: relatively novel gift options at preferential prices. These requirements seem very common and reasonable in daily business activities. But for gift suppliers, can these requirements fully reach the goal of the company to give gifts? Can the economic benefits of the enterprise be maximized?
As a professional corporate gift manufacturer company, KingStar has provided a large number of gift-making services to various customers for many years, and we has built close relationship with many customers, deepening our understanding about their needs and occasions requirements. Therefore, we have a full understanding about some basic principles of corporate gift purchase, and we hope that these experiences can contribute to meaningful discussions and exchanges about corporate gift purchase.
Corporate gifts should be practical. Customers use this kind of gift every day and they can receive the advertising message conveyed by the gift every day. Stainless steel water cups, especially tumbler, are items that people need to use every day.
The quality of corporate gifts must be good. A person might often receive the same or similar gifts from other companies. For ordinary people, what can be put on their table must be a delicate and high-grade gift. Therefore, if you don't want to spend money on gifts locked in drawers or thrown in the trash can, the best option is to raise the company's gifts to a higher level than others.
Gifts have a long lifespan, so if you spend more money to improve the quality of the gift, the gift you give can serve as an advertisement for a longer period. The service life of the stainless steel water cup can reach 50 years, which can make your advertising effect last for half a century
Gifts must reflect the company's strength and credibility. Imagine that you will naturally believe in the strength of these companies in the face of gifts that you can't put it down, and you can definitely trust their products or services further.
All these principles can be summed up in one sentence for corporate gift purchases. High-profile gifts may not be more useful than the practical one. In many cases, high quality can reflect your value better than high price.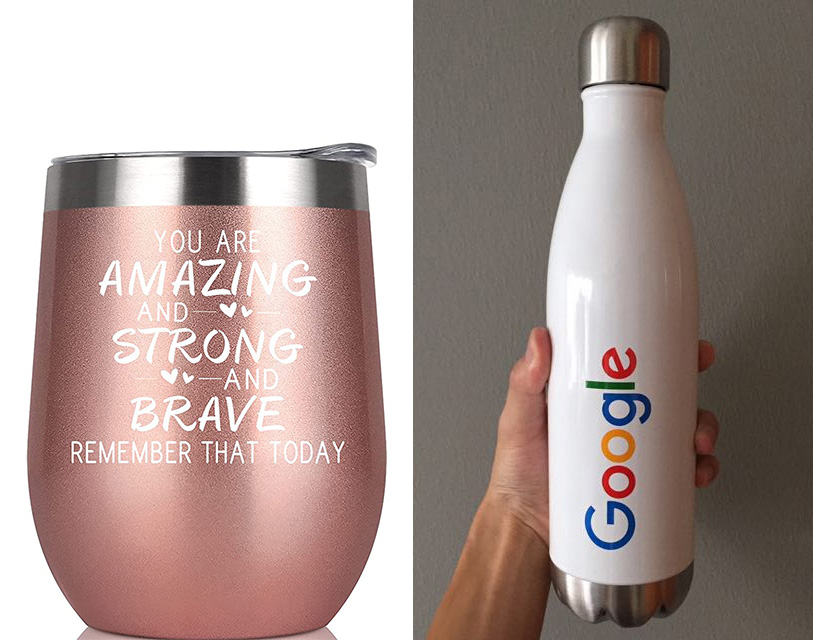 Take our customer, Company A, as an example. Company A needs to purchase gifts for a very important event held by their company. After understanding some of the basic requirements of Company A, we began to recommend gifts to them and quickly formulated a detailed plan. After submitting the plan to the customer, the customer soon put forward his idea, hoping that we can make a custom 20oz tumbler for them, and laser print the company logo on the tumbler. This kind of gift order is actually a very easy task for a professional gift manufacturing company, because every year we will tailor various styles of tumbler for various customers as gifts or advertising promotional items for customers. But I didn't expect such a simple task would cost us a lot of trouble. The biggest reason is that company A has very high requirement for the quality of this tumbler, which exceeds our expectations.
The customer chose medical grade 316 stainless steel as the raw material for the tumbler, and asked to redesign the lid of the tumbler, hoping to choose a fabric with a color similar to their company's logo for matching. At the same time, they have very strict requirements on the quality of the final product, like it can pass through the dishwasher for 50 times without fading and there must be no dent or deformation after the drop test. In addition, customers have high requirements for logo production, including the location of the logo, size ratio, production process, etc. Due to all these high requirements for quality, the final production cost is much higher than expected, but company A finally chose quality over price. In fact, we have cooperated with Company A many times. Every time, we can feel their almost demanding gift-making quality requirements, but after contacts and communication with them for many times, we have gradually deepened our understanding about them and gradually mastered some basic principles of company A's gifts- ordering.
First, company A rarely chooses very peculiar but impractical products as gifts. On the contrary, they often choose wholesale stainless steel tumblers, wide mouth sports drink bottles and other common but practical products as gifts.
Second, company A has high requirements on the quality of gifts each time. After gifts are made according to their requirements, we will feel that the quality and grade of their customized gifts will be better compared with other similar products,.
The reason for company A to do this is actually very simple. The principles they uphold are the 4 principles of corporate gift procurement.
As a leading manufacturer of vacuum flask gifts, KingStar has rich experience in manufacturing corporate gifts. If you need to inquire about company gifts, please contact us in time.
Order Custom Water Bottles & Tumblers
Get competitive price and premium custom drinkware from KingStar — Short lead time, door-to-door global shipping, strong Engineering support!